Le château du Bézu (Albezu ou Albedun)
Contributor : Christian Tourenne
Translation : Andrew Zolnai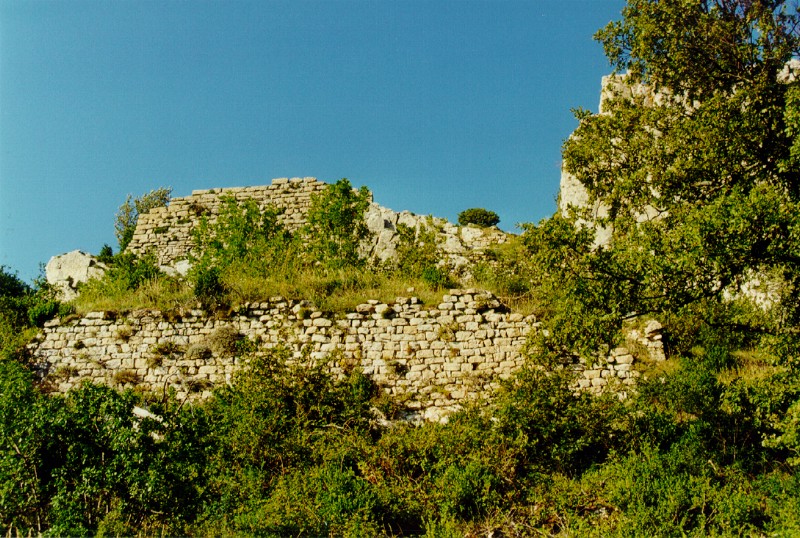 Diaporama at the bottom of the page
France, department of Aude(11), around 7 km east from Quillan.
At 823m high, the castle of Bezu, also called Albezu, Albezus or d'Albedun, stands in ruins among which we can we can still distinguish a great polygonal enclosure and the dungeon.
Lords of Albedun, occupied the castle between 11th and 13th centuries. This fee was a part of the County of Razès, owned by the powerful Counts of Carcassonne.
Around 1060, its first lords were Peter I and Bernard I d'Albedun. During 12th and 13th centuries, some other names were registered in charts in the area: Peter II, Bernard Sermon I, Bernard II, Bertrand and Bernard Sermon II. All these persons were lords of Albedun.
What makes their history interesting is that several of them have been in relation with the neighbouring Templars of Campagne-sur-Aude and Rennes-le-Château.
In 1151, Bernard Sermon I of Albedun gave himself, body and soul, to the Templar Order, doing in the same time a great donation of money to the Order. During the next fifty years, his family continued to make several important donations to the Order.
Bernard Sermon I will gain such confiance of his Brothers that the Order will give him all the village of Esperaza and the lands around to administre. It was a rare privilege and almost unheard of.
In 1209, all the region was the witness of the torments of the Albigensian Crusade.
The family of the Lords of Albedun adopted the Cathar Faith and, in 1210, Bernard Sermon II let his castle to Simon of Montfort(1). Most intriguingly, he was allowed to stay in his castle. From that moment, the Lord of Albedun adopted a stronger position. In 1229, he decided to hide an important Cathar Bishop, Guilhabert de Castres(2), and a Parfait, Guillaume Hunaud(3), in his territories. In consequence, in 1231, King of France gave the Castle to Pierre de Voisins(4), a French Crusader.
However, Bernard Sermon was never accused of heresy. He was even allowed to keep some properties in the region and continued to live there with his family.
This fact is very surprising, knowing that all the others Cathar Lords in the area were persecuted or had to leave the region. In 1240, Bernard Sermon even came to Montsegur to get the benediction of the cathar bishop Guilhabert.
Another surprising element concerning the lords of Albedun was their fortune. They never had to loan money and they had important financial reserves. Even many times, they loaned money to Counts of Carcassonne and made gifts to the Templars.
To finish, some additional informations :
Between 1292 and 1307, the castle would had been the property of the Order.
In 1307, Othon d'Aure, liege of the Count of Carcassonne, leaved in the castle of Albedun was accused of counterfeiting currencies.
In 1344, the de Voisins family was back in the castle, but Brunissende, wife of Jacques de Voisins, William of Cathala (Son in law of Brunissende, and nephew of pope Benedict XII) and a couple of other nobles were also accused of the same facts.
Indeed many intriguing events took place in this castle of Aldebun : The big fortune of its lords, their immunity during the Albigensian Crusade, the numerous changes of ownership and to finish, these facts of counterfeit currencies...
A lot has been written about the castle of Bezu because it was shown as a Templar preceptory by Abbot Mazières(5), who consecrated a book to this controversial supposition. It would have been transformed around 1290 by Templars went from Mas-Deu, a Catalan preceptory, due to a donation made by Pierre de Voisins, Lord of Rennes-le-Château. Jean Markale, in his book «Rennes-le-Château et l'énigme de l'or maudit» (éditions Pygmalion, 1989), wrote that the Templars of Le Bezu were not arrested on October 13th 1307, as all the other Templars of kingdom of France. They would have thus been under the authority of Count of Barcelona.
The card IGN shows well the castle as the Templar castle.
According to a legend, the well located in the ruins of the farm "des Baruteaux" harboured a silver bell. It tolled every night of the 12 to 13 October. At this moment, ghosts would have filed out the cemetery in the direction of the castle...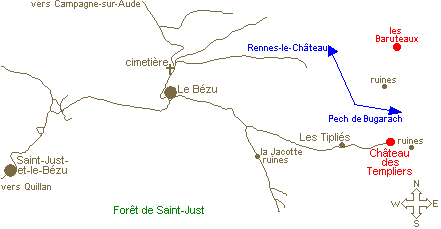 Notes :
(1)
(2)
(3)
(4)
(5)
---
Bibliography
"Les Sites Templiers en France"


Jean Luc Aubarbier et Michel Binet ; Éditions Ouest-France 1997

"Des Templiers en Haut-Razès"


Georges Kiess ; Imprimerie Tinena 1990
Как только Танкадо узнает о том, что вы сделали, он опубликует свою копию, и рынок рухнет. - Вы получите оба экземпляра, - прозвучал голос.
 - Мой и мистера Танкадо. Нуматака закрыл трубку ладонью и громко засмеялся. Однако он не смог удержаться от вопроса: - Сколько же вы хотите за оба экземпляра.